Writing erotic fiction will
inspire
your sexuality!
Why writing down erotic fantasies is good for you and a comprehensive guide on how to do it
Whether you are a beginner, advanced or never even considered it, this guide will open your eyes to the potential behind writing erotic fiction. Whether for yourself or others. With hard facts and tips but also a lot of inspiration, this article is born out of experience and I encourage you to give it a go!
Writing erotic fiction, condoms on cucumbers and dirty words
Let it be known, that most people will blush and giggle when I tell them I write (and read) erotic fiction. Why? Because they probably know little about it and/or would actually like some recommendations or to try it themselves. That's ok. This is a shame-free zone, no judgement. Writing erotic fiction is only just coming to fruition in our modern times. 
With social media revolutionising the way we are educated about sexuality, we are finally seeing a turn-around in the clit-less biography books that lack to teach us about healthy relationships, boundaries, pleasure or basically more than reproduction and how to put a condom on a cucumber (which I still struggle with).
But writing erotic fiction is not the new black. The likes of Marquis de Sade, Erica Jong, Henry Miller and Anaïs Nin knew how powerful writing smutty little stories can be. Before Shades of Grey existed, great authors of our time were whittling away writing down naughty scenes. I like to imagine them giggling or sweating and certainly procrastinating over how society would perceive their dirty words.
What they knew then already was that writing erotic fiction is beneficial on so many levels. This article will tell you on which levels and I will also divulge why I write erotic fiction (and shout from the rooftops about it!).
How writing erotic fiction will inspire your sexuality
The simple act of putting dirty words on a piece of paper can:
help you put fantasies into words (which in turn converts them into reality)

inspire new fantasies or uncovers new fantasies

allow you to explore your sexuality in a safe space

increase your arousal and re-awakens your sexual desire

improve communication in your relationship

make sex feel less taboo by putting it in words

unfurl and reveal trauma and help in the therapy of such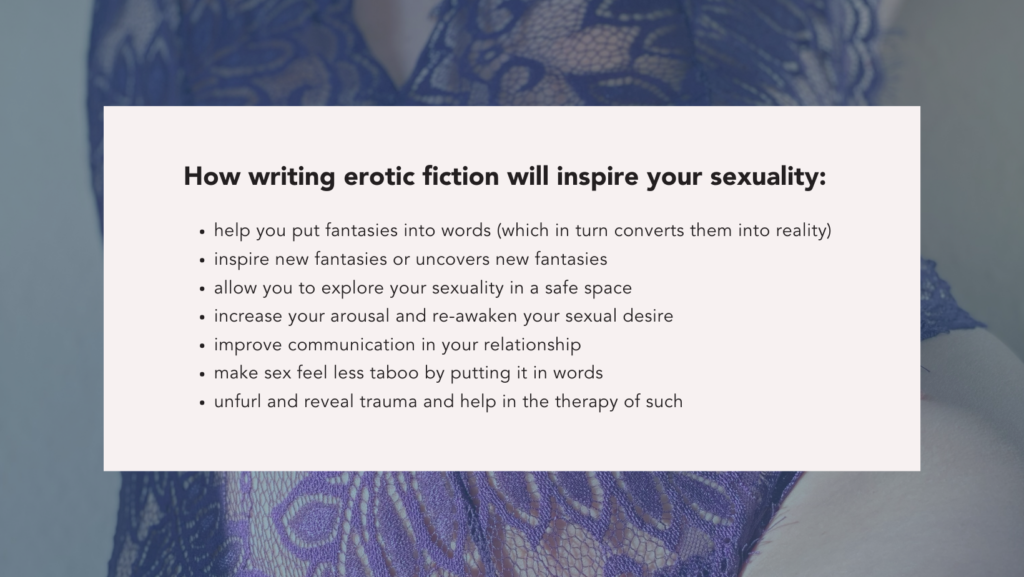 How can you benefit from writing (and reading) erotic fiction?
When we read, our body relaxes. It reduces stress, lowers our blood pressure, helps us sleep, can help us empathise with people and improves our brain connectivity. Writing has a similar effect (and let me tell you, anyone can write erotic fiction: do it for you!).
Writing helps you communicate better, you become more aware of your reality, your potential and your dreams or aspirations.
Additionally, writing erotic fiction has the benefit of allowing you to use words to understand feelings often berated by society and considered taboo. Like in journaling, spending time understanding your thoughts can move your journey forward.
I like to imagine a garden of lust in our minds. If we don't water it, the plants of pleasure will perish. Writing down our fantasies, our innermost wishes and replenishes this garden. For example, say you're interested in a fetish. By researching a little and understanding more, you are planting a seed. By writing about it as you would find it appealing, you are nurturing it to growth. Should you then be in the situation where you wish you turn it into reality, you are ready to share that blossom with a partner knowing full well it has come to fruition.
Meanwhile, writing erotic fiction is also a great way of stimulating our minds into arousal. Women are known to preferably be stimulated mentally (this is not an assumption, it's based on facts) than physically (also called cognitive arousal). Hence, visual aids such as photography or audio stimulation in the form of stories or (hey, presto) erotic fiction can be a great fire-starter.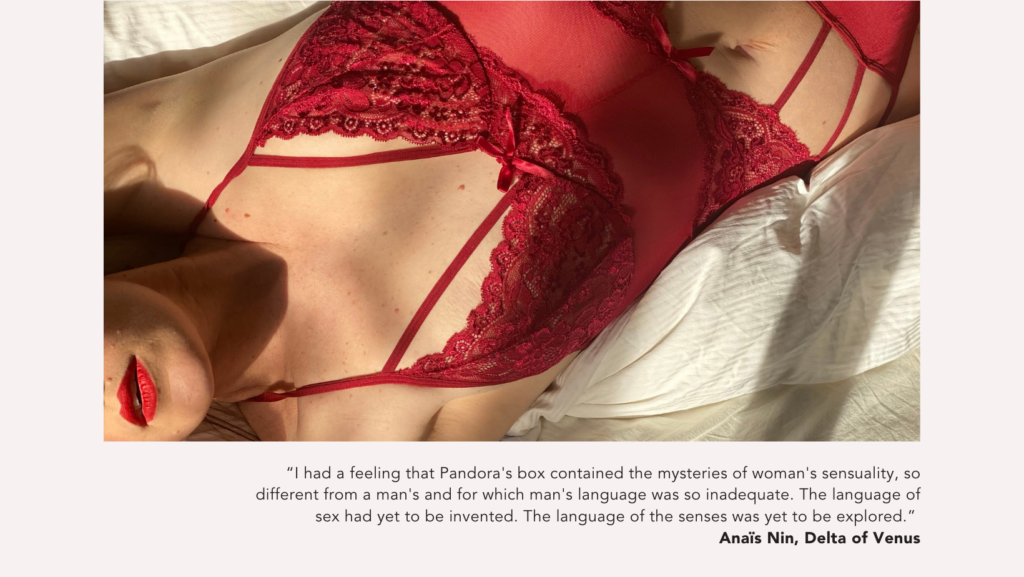 Why did I start writing erotic fiction or erotica?
Honestly? Out of complete desperation. After becoming a mum-of-two (which I soon learned I should not be defined by), I entirely lost my libido. After a rabbit hole of research and doctor visits, I decided to figure it out myself and take it into my own hands if you will (and I certainly did). 
Discovering our own bodies and learning about our sexuality is a constant evolutionary journey. Did you know that erotic fiction can help you on that journey? It helped me.
When I began writing down my fantasies, I tapped into secret desires I had left hidden because of society's expectations of me as a woman, as a mum, as a person with sexual desires and needs.
I flourished in talking to my partner about these fantasies, I found new words and strength in communicating my needs and it allowed us to rebuild our relationship and continue to explore our sexuality together.
Now to the juicy part: 
How to write erotic fiction
Do you want to write erotic fiction? From the perspective of a woman writing for others, there is a tingling excitement to knowing someone else might gain arousal from your fantasies or imagination (there's a certain exhibitionism in this). If that is why you want to write, I am rooting for you! The world needs all the ideas and fantasies! 
On the other hand, if you are writing for yourself, I am also a big fan already. This simple act of doing something for your mental sexual health is relevant and important. Whether you show it to someone or not, know that it is normal and you are great. No joke.
Therefore, let's dive in on a few pointers in writing erotic fiction.
First off, know that whatever your mind comes up with, it is fine. If it inhibits your everyday life or becomes compulsive or damaging to your health or others, please seek some guidance. Otherwise, your fantasies are valid. Also, if you have kinks or fetishes, these are normal. In my article, How to talk about kinks and desires, I outline having this conversation with a partner. Just know, there are like-minded people out there. 
Meanwhile, I don't distinguish methods on how to write erotic fiction depending on whether you are writing for someone else or for yourself. Nevertheless, if you want to achieve something with your stories, I will give you some quick pointers on how to reach them with your words. The reason I say this is because your fantasies are yours and whether someone likes them or not is entirely subjective and shouldn't reflect on your writing. Trust me, I know what I'm talking about. You can't please everybody. Whether in erotic fiction or the bedroom.
Quick noteworthy ideas to bear in mind when writing erotic fiction for others:
No racism, discrimination etc.

(goes without say). If engaging in kinks, BDSM or similar where degradation is in play, mark the story with a trigger warning or keep it for yourself. 

Keep it real.

We're not all acrobats, have perfect measurements or are constantly hard, wet etc. Stay body-positive and realistic.

Save yourself the clichés.

Unless you are using them explicitly to set the scene, don't go for the average porn scene from the

1980s

. 

It's not all about sex.

Bear in mind, women are big on mental arousal, so set the mood too. Don't go straight for the nitty-gritty.

Include emotions, humour and faults.

If you are writing a novel, make sure the characters are relatable and the reader can empathise with them.
Should you really want to immerse yourself, I encourage you to get acquainted with the genre by reading erotica yourself. This article of mine points out some iconic erotic fiction.
So, there you have it. If you are just starting out, let's keep it light-hearted. You're now seizing the moment and are braced with a piece of paper and a pen or at your computer or (like I did in the early days) just opened notes on your phone. Let's figure out what kind of writer you are: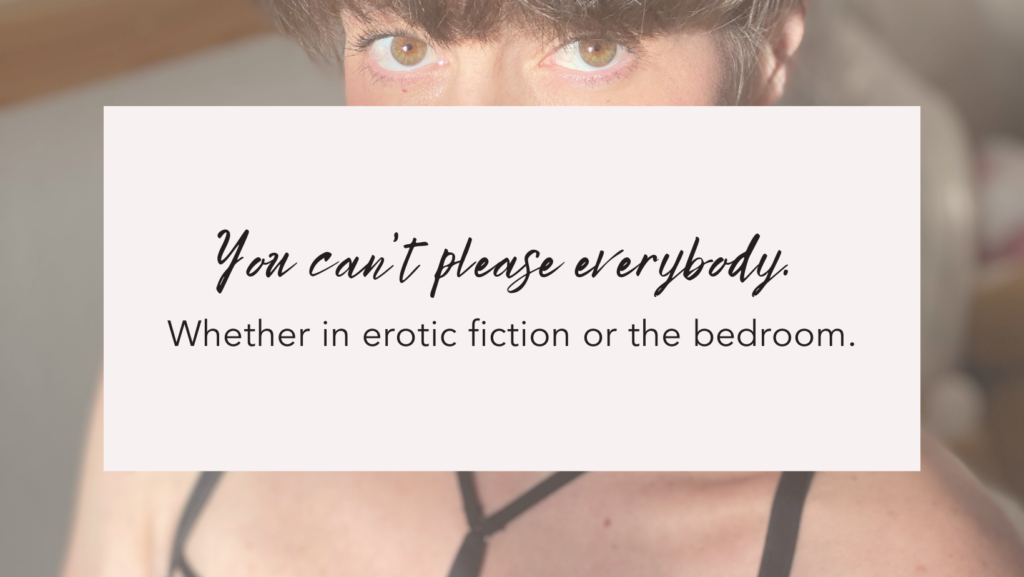 Erotic writing based on "Kopf Kino" (a cinema in our heads)
Contrary to belief, you don't always need a plan. I like to think of this like a cinema in our heads. If you desire (and this is all about desire), you can just close your eyes and start imagining something you would like to try or have tried. For those who like to drift away in thoughts, daydream, and become immersed in their imagination I recommend playing the scene out in your mind and then literally writing it down as it happens. Another wonderful way to do this is to record a voice note (or use a voice recorder) as it doesn't inhibit the flow of thoughts as it happens.
In other words, write without stopping, ignore all possible mistakes or grammatical precision and/or punctuation. This is called free flow writing. It opens communication between your conscious, cognitive mind and the unconscious, intuitive mind (Source: LifeMatters). Consider it an emotional purge (vomit). Be patient with yourself. It might be tricky the first time as we have learnt to correct mid-flow and re-read. It takes a bit of practice. However, you will notice soon enough how emptying your mind onto the page (or voice note) instantly gives you a surge of energy in whichever form. 
Quick guide to free-flow writing an erotic story:
Allow the scene to unfold in your head one or several times until you are sure of the logistics

Either write with a pen and paper, on a computer or in notes and ignore punctuation, spelling, grammar etc. Or

Record a voice note.

Allow the stream of consciousness to flow and if the journey ends up taking a different turn, go with it.

Re-visit your story and consider amendments or leave as is with only grammatical corrections etc.
For some of us, this approach doesn't always work. Whilst I draw inspiration from everything and anything (whether it's an attractive person I've passed, a painting, a social media post, stories from others), converting that to written word can be daunting.
However, if you've no idea where to start and the mere idea of writing something like that down makes you break out in hives, I've got you covered.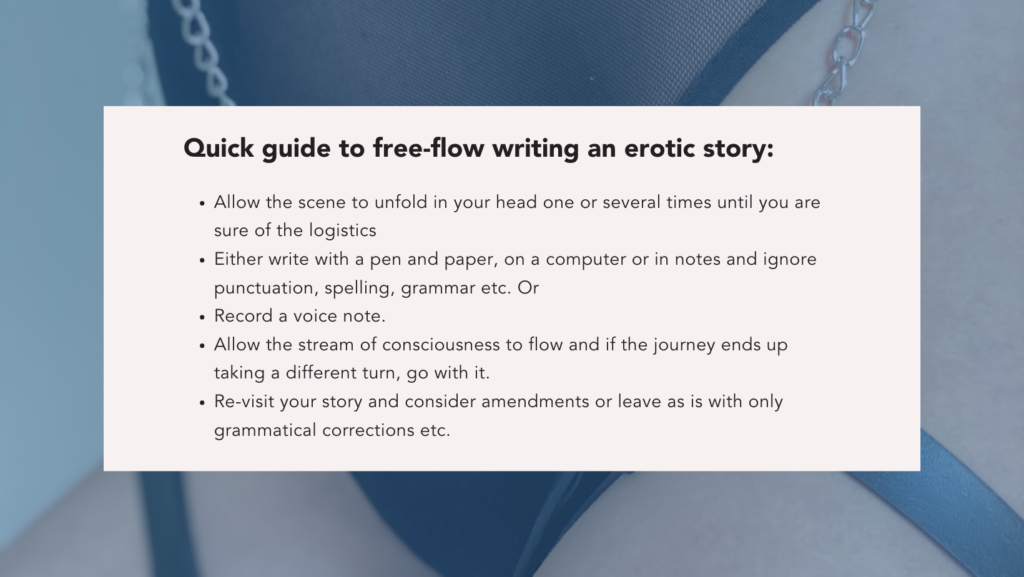 Erotic writing based on a plan
Meanwhile, I am also not adverse to having a plan when I write erotica. Some stories have a certain intent or I want to convey a specific message. Or I'm just feeling scatty and have the need to structure my thoughts. Either way, there are times when a backbone to a story makes sense.
Whilst I am not going to give you the 101 of how to write a novel (there are enough webpages, courses etc. out there where you can learn that), I will give you some specifics for writing short stories and some general hints on what to do and what to avoid when writing a novel.
Write about what you know
A wonderful place to start is to write about something you've experienced. Not only is it vivid in your mind, it has a certain chronology. 
Read up about sex
Whilst you are allowed to wander free when you write paranormal or sci-fi erotica, you should stay on the straight and narrow regarding the anatomy and act of human intercourse.
What's your flavour?
Do you want to have a certain theme in your erotic fiction? There are many: kink, taboo, protagonist, historical, paranormal, sci-fi, dynamic and much much more. Read stories by others in this case or allow yourself to draw inspiration from other authors.
We don't care about the size of the boobs or balls
This is a pet peeve of mine that gets me so frustrated. Unless it is imperative to the story, as I mentioned above, we do not want to read about the physical appearance for hundreds of pages. It is more likely to reach the reader if you leave it open to their imagination. Think minimalism. Think empathy. Think real.
How to write intimate scenes
Sensuality is key here. Know your characters and describe their reactions more than their actions. Avoid purple prose (long, winding descriptions). Draw from their senses in describing their emotion and passion. 
Emotions, emotions, emotions
Ask yourself lots of questions before you enter the nitty-gritty of the scene. Why are the characters being intimate? How are they feeling about it? What experiences are they bringing into it that may affect the next part of their narrative? What may define their character traits in the rest of the story might differ radically from how they act in a more vulnerable setting during sex acts.
How to describe arousal
Do your research, ask people, consult the internet (burn your browser history afterwards!). Arousal feels different for everyone. It can be a physical sensation, it can be an out of body feeling and everything in between. Don't forget about the emotional aspect and psychological development of your characters.
Watch your language
When it comes to describing genitals, there is a catalogue of words out there. I have a catalogue of synonyms for all explicit body parts and sexual acts in my article How to talk dirty without embarrassing yourself.
Pace yourself
Like in the act itself, be sure to show the progression in your writing. If it's a quickie, sure, sprint ahead in your writing. But if we're talking sensual and slow, be sure to get involved in the scene and pull the reader in.
Aftercare, aftercare, evolution
Characters as well as people often need some aftercare if they experience a drop. This also applies to the emotional landscape of your characters. Should their emotions have evolved, be sure to give explanation to it.
Tension/Conflict/Suspense
You're going to have to really hone your skills here to create tension and suspense in the relationship of the characters as well as in the sex scenes. Here's how: like in a crime film, create sub-characters that disrupt the potential happiness of your main characters. Predict heartbreak or drama that doesn't come to fruition but leads the reader off track. That way when the couple does come together, the reader will benefit from the explosive interaction! OR (and this is one of my favourite tricks: end it on a down. Life isn't always a fairy tale. Tell the reader what happens after. Give them hope.)
Vocab & synonyms are your best friends
Depending on the style of your writing, you may want to explore using alliteration (the conspicuous repetition of initial consonant sounds of nearby words in a phrase) or metaphors (a figure of speech that describes an object or action in a way that isn't literally true, but helps explain an idea or make a comparison). Adapt your tone to your story if you like! Use your character's voice if writing from the first person narrative. Allow onomatopoeia (the formation of a word from a sound associated with what is named e.g. cuckoo, sizzle) to arouse your reader's mind.
First, second, third person narrative
When writing your first stories, I advise using the first person narrative (I did, I took…). If you want to jazz things up, consider seeing the reader as your opposite and use the second person narrative. The third person narrative is the most commonly used; beware here, that you tell it only from one character's perspective otherwise it gets confusing for the reader!
Choose your dialogue wisely
Let's be honest, when it actually "gets to it", we are normally rather inarticulate and lost for words. Make sure you don't overload the reader with words. Sometimes the magic is what is said between the lines. Play with this idea. Also, be realistic in your choice of words based on your character's personality. 
Find beauty in the details
Every bead of sweat, every curtain rustled by the commotion, each kiss that has taken forever to win… Describe it like you would a painting. Use colours, emotions, comparisons, songs or anything else that moves you in that moment.
As you can see, there is a lot of inspiration and input here for you to now go away and have a little think about how your story is going to go.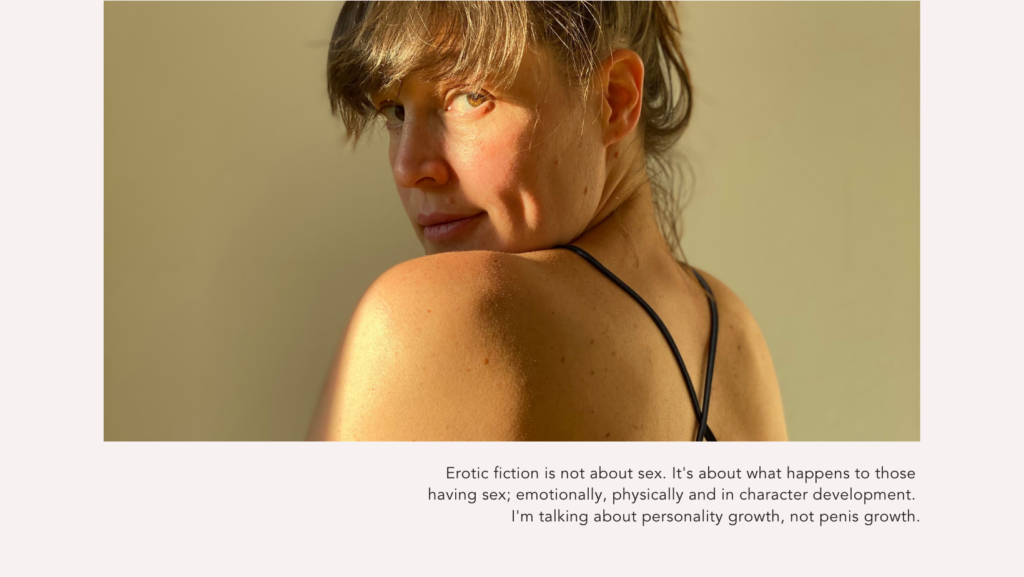 Writing erotic fiction for yourself, for other and/or your partner(s)
So you've written an erotic story. What now?
First of all, good on you! It's not easy putting those words onto paper (metaphorically speaking). As with many things, sometimes it's a good idea to let it sit for a bit and then re-visit.
My ultimate tip is actually to read it out loud. Whether it is to someone, just out loud in your own company or even record it. As soon as those words become more than something in your head, you allow the fantasy to take shape.
Making the most out of your story
Whilst you can certainly leave it as a story on your computer or in your journal, you can also consider setting it free to inspire others. With platforms such as PeekU (german content) and Literotica (english content) you have the opportunity to invite others to explore their fantasies. 
We all know that sharing is caring.
So, I hope you have taken much inspiration and knowledge from this. Now go forth and daydream and write that stuff down!
Got any more questions? Contact me here.
DID WE TOUCH A NERVE? SHARE THIS WITH YOUR FRIENDS (OR ENEMIES!) AND COMMENT BELOW!
Fancy some naughty content in between all those boring newsletters? Then sign up here:
"Rom-com porn for your imagination."
"Boner accomplished on more than one occasion."
"I really enjoy your unique way of balancing a deliciously filthy mind with class and human dignity."
"It was a pleasure to read; no pun intended."
"Sure, there are plenty of other authors out there writing erotic fiction. But Mrs. O? She is unique in every which way: her voice, her getting straight to the point. I love it."
"Arousing, invigorating and a healthy erotic mise en bouche with a posh accent."
© 2022 pleasepinchmehard. All rights reserved.