BDSM | HERx2 & HIM | KINK | THREESOME
A free short story about Ellen; a woman stuck in a rut until she meets a kinky couple and decides a threesome is just the medicine she needs.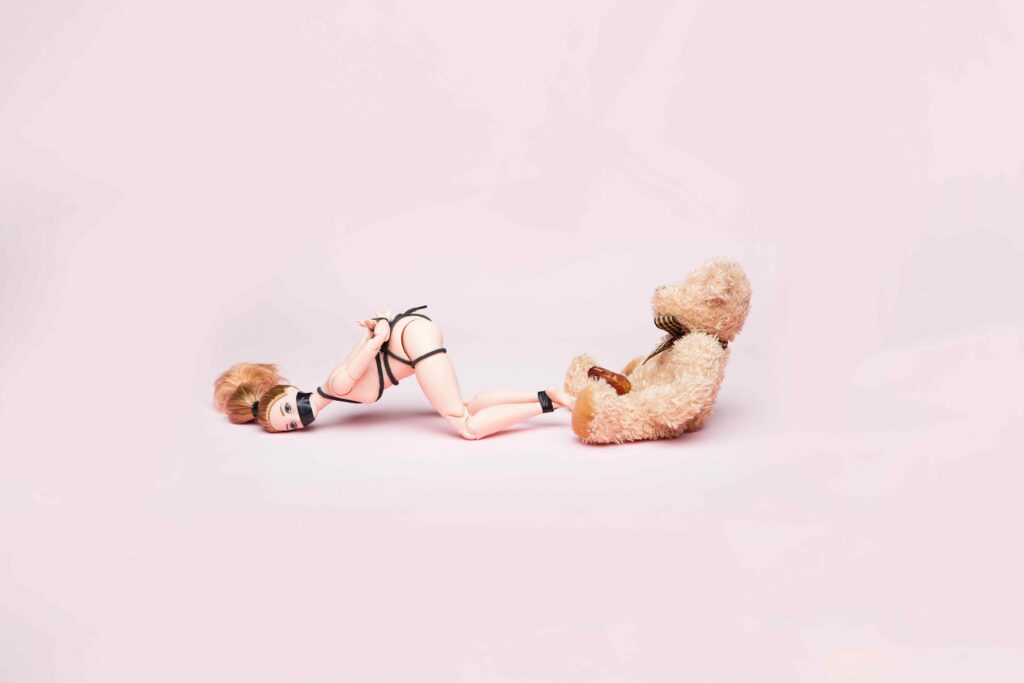 It was a situation that aroused and terrified me simultaneously. How was it that I had butterflies and a knot in my stomach all at the same time. My head felt giddy and my lips tingled. What had I got myself into? Did I really want to go through with it? My hands were cliche sweaty and I instinctively wiped them on my thighs. My rubber clad thighs. My in thin, expensive, tantalisingly exquisite latex wrapped thighs. 
I could already feel myself getting wet. 
And surely that was a good sign? I'd told my best friend where I would be, given her the address and told her when I would check in by text message. I wasn't sure why I was so scared, perhaps because it was new, but it gave me a certain sense of safety knowing someone else knew about the (for me) craziness I was about to embark on.
Let me start at the beginning. I had been out dancing with my friend, Sue. It was a normal club, everyone around the age of 30-40. The music wasn't blasting, the dancing was relaxed. I'd decided to take a little break as my new f€&@ me shoes were killing. Slouched on the round sofa chairs I realised my legs were wide apart (hazard of wearing trousers too often) and no, I wasn't wearing underwear because it really didn't work in any way, shape or form with this dress. I felt a flush to my face as I wriggled up and folded my legs over. Would I ever learn?! Taking a quick glance around I assured myself that no one had seen; or at least I thought.
The night progressed and I started growing tired. The drinks were getting harder to drink and didn't taste as sprightly anymore and I could already feel a headache coming on. Oh the joys of being 35+ where a simple sneeze meant I couldn't move my neck for a week. 
Shimmying onto the dance floor to find my friend Sue (who was wildly entangled in a tall lady's arms) I whispered (yelled) into her ear that I was going to head home, if she wanted to come and if everything was ok (ie did she need rescuing). Sue released the tall lady's tongue long enough to say "pumpkin giraffe", which was our code for "I'm fine, I will make my own way home and text you to check in". 
Once outside the doors I retrieved my flip flops from my bag and slung my heels back in; I wouldn't be wearing those shoes again for a while, or at least I thought.
"You looked utterly ravishing in those shoes," came a deep dark voice from beside me. I almost jumped out of my skin. Turning to see in the dark, my ears slightly ringing from the music, I saw who the voice belonged to. The man was very tall, immaculately dressed in a black shirt (done up all the way), black trousers, smart brogue black leather shoes and thick, black curls with a neat beard. Beside him, arm linked in his, was an equally elegant lady, one head shorter, in a wool coat with black tights and PVC heels. Her eyes were like two deep blue pools encased with gorgeous black long lashes. She had black hair twisted up into a chignon. Needless to say; they were breathtakingly beautiful.
"Er, um, er thank you. But my heels are raw now," I mumbled back. Looking around there was no taxi anywhere. I'd have to brave bus and train; eurgh. 
"Do you need a lift anywhere?" the lady said, her voice was like thick oozing caramel. It made my uterus pulse. For a fleeting moment I actually considered taking her up on the offer. Was I more drunk than I thought? Or did I feel an instant trust and excitement?
"Oh that's very nice but I don't take lifts from strangers." 
Oh my goodness; my brain and mouth certainly were uncoordinated, inebriated and apparently five years old.
"Understandable," he breathed hotly into the crisp night air. "If you change your mind and do fancy some candy, don't hesitate to call on us." His long, strong fingers held a business card. Something pulled me towards them with a force so incredible it made me want to rip my clothes off and have them ravish me. But being the polite, introverted and hesitant prude I am I clumsily took the card and giggled; "that's very nice, thank you."
It wasn't until a few days later, dressed in my finest ten year old pyjamas and ex-boyfriends hoodie with a pack of crisps and some drool blaring from the TV that I remembered the encounter. In all honesty, I had been quite inebriated that night and while incredibly arousing and fascinating, the ins and outs of my routined day had made the whole evening turn to dust and sweep itself into the back of my memory. Sifting through my evening bag (and swearing to clean it of the thousands of old chewing gum packs and year old condoms) I found the card. 
Until this moment I hadn't really looked at it properly. The card was thick white card with two names in a barock style font on it: Justin and Ariana and a phone number. It made me think: how often did they approach people and give them this card? Why was I even looking at it again? And that's when it happened: all of a sudden I found myself thinking about a threesome. My eyes closed for a fleeting moment and I pictured her beautiful eyes staring deep into mine. Her warm lips warm pressed against mine. She tasted of vanilla and mint and coconut all at the same time. I could feel my body ease into the daydream and all of a sudden he was there as well. Justin. 
His hands reached around my hips from behind and his breath was hot on my neck. 
Opening my eyes I realised my heart was racing and my hands were shaking. What were these strangers doing to me?
But it all made sense. I needed an escape. I needed to feel alive. For the past years I had lost sight of myself and life had been an in and out of work, weekend, binge drinking, flings and repeat. And I felt drained. Somehow these two strangers were making me feel tingly all over. And so, after downing a glass of wine, I dialled and called Justin and Ariana.
So let me circle back to the beginning of my story now. How did I get here dressed in rubber? Justin and Ariana were pleasantly surprised that I had called and had offered to rendezvous (fancy, I know) the following Saturday. Justin's voice had again been like the feeling you get when you lie on the couch and have the sun beaming onto you. He told me the address (which I hastily jotted down) and asked that I bring a change of clothes. I felt like a little child again; I said yes, er and um a lot and otherwise adhered to all he said. My submission continued as I arrived at their opulent house and after a warm greeting let myself be led into a room filled from top to bottom with the most exquisite outfits I had ever come across.
"Have you worn latex before, Ellen?" Justin asked. Now although I am prude it does not mean I am entirely oblivious to sexuality and all that is possible. And so it was without hesitation and with a chest of pride and excitement and growing sexual intensity that I reached for my outfit and breathed "This. This is what I want." Ariana seemed to float as she reached for something from a drawer. "With this, Ellen." Even the way they said my name was making me shiver. 
And so there I was: a full, black latex catsuit (that I had chosen), a double zip running through the entire crotch with a cut out at the breasts for which Ariana had chosen a sheer peach coloured peekaboo bra with black bondage inspired straps. 
"Breathtaking," Justin breathed (it seemed to be the only way he talked). 
"And now the piece de resistance," Ariana said from behind me and fastened a corset around my waist. Again, in a pale peach colour made of the finest latex I had ever felt. She grabbed the laces and placed her knee gently in the lower part of my back. Her mouth came close to the nape of my neck and she whispered "Im going to pull it tighter, Ellen."
All of a sudden the uncertainty of whether I really wanted to go through with it disappeared. Justin and Araina led me into the next room. It smelt of sandalwood and vanilla, candles burnt everywhere and I was of course at first drawn to the big bed in the middle of the room. But soon I was gazing in awe and anticipation at all the other amazing toys and paraphernalia that displayed themselves in the room. Instantaneously, I was ready. And by ready I mean I was wet, I was gagging for it and I was ready for everything and anything. Like putty in their hands, my body wanted to be touched, grabbed, licked, kissed, spanked, banged, rammed… you name it. 
"Did you bring them, Ellen?" Justin asked. I rummaged in my bag: my shoes from THAT night. He took them from me and knelt down to slip my feet into them. His fingers traced up the inside of my thigh as he came up to my eye level again. I could feel the warmth of Ariana behind me. Our bodies stood so close I could hear their hearts. "You weren't wearing underwear that night, were you Ellen?" The warm fuzzy feeling was suddenly replaced with slight shame but also a naughtiness I had never felt before. "I, erm, no. I, the dress…" Man, my brain and mouth failed me sometimes. Luckily, I was about to become a goddess and not the mumbling Ellen I encountered on a daily basis. Ariana passed Justin a ball-gag and began playing with my nipples. 
"We have a safe word here: Raccoon feet. Obviously that isn't possible with this. So if you want to stop, you hum happy birthday or tap out. Is that understood?" 
I answered yes instantly and took his hands, his soft strong hands, to pull the gag over my head.
From that moment on, it felt like the world started spinning and a frenzy began. Let me give you my POV, first hand, unfiltered, in the now.
Justin and Ariana are standing in front of me. Justin is dressed like a circus Dompteur. His curls are tumbling out from beneath a top hat in bright red. He's wearing a coat with tails in black rubber. His chest is oiled and strong with the same black curls. His latex trousers reveal his trained physique, skin-tight with a detachable crotch in red. He is bulging and I swear I can see it throbbing. 
Ariana is a vision too. She is wearing a black bondage bra; her breasts are voluptuous and look soft to the touch and perfect. I can see a tattoo beneath the bra in the slight gap before her corset in dark forest green latex. Matching it she has a circle skirt that looks like a tutu of rubber in black also. I want to lift it and see what's underneath but before I know it my hands are being handcuffed and lifted above my head and attached. 
I am vulnerable, I feel a great tension in my chest. 
"Ellen, you are the most delicious creature we have ever seen," Ariana whispers in my ear from behind. Justin is staring at her and me as he pulls a riding crop from beside him. Ariana is fondling my nipples. I am longing to kiss her. Justin comes closer and runs his crop all over me from top to bottom. He is gentle and sharp at the same time. I'm literally gagging for it. Ariana zips open my crotch and slides her fingers over my clit and down to my pussy. "You're wet, Ellen." These short sentences are driving me crazy. Each word arouses me more. I can feel her breasts pushing into my back as she presses herself even closer and dips a finger into me. "And hot," she murmurs. Justin is still running the crop all over me, his stare intense and with a glint of a smile. And then, suddenly, he clips first my nipple, then my clit with his crop with an expertise unprecedented. I am in ecstasy. I don't even notice that I am dribbling slightly from the ball gag. Ariana moves away from me for a brief moment and when she returns she is between my legs on her knees. She pushes my legs apart and retrieves a vibrator in pink. She begins licking me and then plunges the vibrator in. It takes only moments and I am close to coming. 
Justin is now behind me, his tongue flicking around my ear. He opens my catsuit further and I feel a sharp slap. He is spanking me. "Ellen, don't come yet," Justin hums in my ear. I feel him move away again and then I feel lube on my butt cheeks. Ariana is still licking me and expertly pumping the vibrator. Her deep blue eyes gaze at me with an all-encompassing passion I have never felt before. I can hear French music playing faintly now. Guitar strings drift into my head, over my skin. 
Justin is now rubbing, almost massaging my butt. 
His long, strong fingers edging closer to my hole. I feel my eyes rolling into the back of my head. I am giddy with lust. And then I feel it. A small plop as he has put a butt plug in me. Ariana speeds up, Justin has moved around infront of me and is licking my nipples. I explode. My whole body is convulsing with lust and orgasm. My arms have gone numb. 
Ariana stands and pulls the ball gag from my mouth. I move my head forward to kiss her but she covers my lips with her fingers. I can smell myself on her. "Not yet, Ellen. There's still so much more." Justin has removed the handcuffs and hoisted me up in his arms. He sits me down on the big bed and stands infront of me, Ariana is knelt before him. 
I want to grab his cock and suck it and before I know it he has removed the front of his trousers to reveal himself. 
It is fantastic in every way. I can see the veins throbbing. Ariana takes his cock in her hand and then deep, deep into her mouth. He grabs her hair and pushes her head harder onto him. Then he leans forward and dips two fingers into my mouth. I suck them with all I have, wanting nothing more than to feel him in me. He gently leans me back so I am lying down again and dips his fingers into my dripping pussy. Wetting my fingers I rub my clit. And at my age, I am a professional. I come again within seconds. 
Moving away from Ariana he pushes me further onto the bed. And then it happens, without forewarning and out of the blue, he enters me. Tentatively, gently and then full throttle. I moan and gyrate my body and can't help but squeal with delight. 
I think on all my past sex sessions and realise I have never been this horny and ready so quickly. 
I had always needed plenty of foreplay. But right now, I am just dripping with lust. So engrossed in the moment I forget about Ariana. But not for long. Lifting my head I see her approaching me. She squats down behind my head and slowly lifts her skirt. A lacy, crotchless panty reveals itself; I can smell her. She's wet. And glistening politely in her bum is a dark green plug. "Will you lick me, Ellen?" She asks. I feel so safe. "Yes, please, yes." Hoisting one leg over me she hovers as I begin licking her. It's the first time I have done this but I am confident. My bestie Sue talks a lot and is always one to tell me about her sexual escapades. It feels like I have done this all before. And so before long, Ariana is moaning and groaning. She removes her bra and bares her beautiful, sumptuous breasts. Justin plays with them and within minutes Ariana and I have both come. Should I keep a tally on how many times I have come?
Ariana climbs off of me and Justin too has gone to get something. Returning I see he has a little tray with glasses of water and little nibbles. I gulp down half the glass and help myself to a strawberry (cliche, but I can't help but think how much tastier it is than normal). Ariana and Justin quench their thirst and Ariana also eats some small pralines and some grapes. Decadent, for sure. She fixes my gaze the entire time and it is as if she is still playing with me. My lust just keeps growing. While she sucks on a strawberry, her fingers traces my cheek. It feels loving. Breathing in deeply, I want to kiss her. Again, she brushes me off. "Never too soon, Ellen." I don't know whether to be offended or sad. But my mind doesn't dwell long. 
Justin has approached from behind and is knelt putting a blindfold on me. 
I swallow the last remains of my food. Ariana and Justin are opening my corset. Their hands run over the catsuit. The latex feels phenomenal. Ariana kisses and licks my nipples. Gently she places my hands on her breasts; they are incredible. I want to bury my face in them, lick them, caress them. "Turn over on all fours, Ellen," Justin commands me. The submission suits me well.
Although I already have a blindfold on I additionally close my eyes. My mind is in this moment. There are no other thoughts. I can feel my pussy, dripping wet. The cold butt plug firmly in place. My breasts feel swollen with passion, my nipples screaming for more attention. I am so captivated that I realise I'm holding my breath. "Breathe deeply, Ellen," Ariana directs me from behind. As I exhale I feel the butt plug plop out. Leaning down a little to rest my head on my arms and open my crotch even further I suddenly feel a hot tongue lick from my pussy into my bum. And then suddenly a vibrator in my pussy, softly and carefully. "Ellen, you're driving us crazy," Justin breathes into my ear from the side. "We want to devour you." 
"I want you so badly," I manage to stutter back. 
Ariana continues to play with the vibrator in my pussy and then, oh my, and then she softly puts it in my bum. 
And although I have been experimental a few times before, it has never, ever, ever been as hot and marvellous as this. And then: another vibrator in my pussy. 
"Ellen, this is what you're doing to us," Justin says and I feel the blindfold removed from my eyes. I blink a few times and then I look to the side where there is a big mirror. What I see is to this day as if in a most stunning porn. Justin is screwing Ariana while she is playing with me. 
"Oh my god," I mutter, "I'm going to come," I look to see Ariana tilt her head backwards and yell, "I'm coming!" An explosion of stars forms before my eyes. My toes have curled and my legs feel tingly. We all slump on the bed. Justin is lying between us and we catch our breath. Sitting up he removes his jacket and top hat and throws it beside the bed. Ariana kneels and removes her skirt. Seeing their soft skin makes me crave their touch even more.
"Please help me take off my catsuit," I beg of them. Peeling it off their breath is hot on me. Ariana's breasts are on my back, Justin's lips skim the inside of my thighs. And then we are tumbling and twisting on the bed, a sea of skin. I have come so often I honestly can't say where the climax point has been. But this is again so different. I feel at one with them. 
"Ellen, you have captivated us," Justin purrs as he crawls between my legs and licks my pussy and bum. 
He eases two fingers into my bum and two into my pussy. 
I am putty in his hands. "May I come in you?" he asks so politely that there is no way I can refuse. "Let me suck you first?" I ask, daring for my standards by far. I scooch to the edge of the bed and rub my clit whilst I lick him. I can see Ariana in the mirror. She is behind me rubbing herself too and using a vibrator. Her boobs are bouncing up and down. I take a wet finger and looking up at Justin I hesitantly play with his bum too. He smiles at me and pushes my head on him further.
"I want you to come in her, Justin," Ariana says. Looking at our beautiful bodies in the mirror we all move into position. I go on all fours so Justin can reach my bum best. Ariana lies in front of me, legs agape. The dazzling butt plug still in place she is rhythmically pushing the vibrator in and out and rubbing herself. Her breasts are squashed between her arms and just mesmerising. Justin plops a thumb in my bum. "Are you ready, Ellen?". "Yes, yes, yes." I reach forward and let Ariana lick my fingers with her plump lips and pink tongue. Reaching between my legs I begin rubbing myself. Justin enters me and I am in heaven, sex heaven that is. He moves slowly and then faster. And faster. And faster. 
I am gasping for air, my fingers rubbing, my heart racing, my head about to blow. 
Watching Ariana, then Justin in the mirror, then her wonderful vagina and boobs and his chest and strong arms. It is a cacophony of screams as we all come more or less at the same time. Ariana is quivering, my arms are soft and Justin has held onto my bum, giving tiny thrusts to prolong my orgasm. 
We fall on the bed again, sweating, panting, chests heaving. Ariana leans over me, "And now, Ellen, what you have been yearning." And she kisses me. Her kiss is so tender, so full of love that my heart can't take it. 
I am speechless. I am in awe. I am planning my next visit.
---
Threesomes are a fantastic way to explore new sexual practices and integrate a new dynamic into a relationship or as the prize unicorn in the situation. Consent, communication and trust are of essence of course. What kind of threesome have you dreamt about? Perhaps with toys, in a sex club or vanilla with love and sensuality? Or chuck in some BDSM or kink for something completely different!
DID WE TOUCH A NERVE? SHARE THIS WITH YOUR FRIENDS (OR ENEMIES!) AND COMMENT BELOW!