Room8 Hamburg -
sex hotel
or couples retreat?
Hamburg now has the holy grail for all parents who need a break from their routine. Whilst "sex hotel" is seedy, Room8 is anything but. Read more below!
Including a short, erotic story about Room8 at the end of this article.
Quickly find what you're looking for:
When I first heard of room8 in Hamburg and all it has to offer, I did not think "seedy", "sex hotel" or anything else derogatory. But I'm afraid I'm the exception to the rule. When we think of booking a hotel for a few hours we are cultivated to believe it will be used for sordid reasons (and there's no reason not to). 
But what I'm here to tell you, is that booking this hotel – room8 in Hamburg – will give you an oasis for your relationship in which you can finally stick to your promise of having quality time together and strengthening your relationship.
Room8 Hamburg is more than just a "sex hotel"
I met the owner during a wonderful vulva painting workshop and we instantly hit it off; clearly fueled by the ongoing ambition to work at our relationships and find ways of spending time with our partners. 
What she told me about her business sounded fantastic: a modern, warm, sexy space with amenities normally reserved for sex parties in the luxury of those four walls. The opportunity to explore without other prying eyes watching you. A space that can certainly compete with the luxury of regular hotels and provides an escape from routine and monotony for a short time. 
A getaway for couples to reconnect. An area untainted by stress, differences and the past. Basically, a hotel room with all the trimmings of a sex party.
Quality time for you and your partner
Room8 Hamburg is not a sex hotel in the traditional sense. Nor is it a "dungeon" as many mean to believe when they hear of its interior (the love swing and St. Andrew's Cross to be specific). When you enter, you feel you want to snuggle into the bed with coffee, relax in the bath with bubbles (both kinds) or try new things: restraints, different positions, toys…
There aren't many places who boast of so many opportunities to be intimate with your partner with all the luxuries of a sex room included. But Room8 has you covered.
What does Room8 Hamburg have to offer? 
Let's have a rundown of its amenities:
Cosy living room space with a large sofa

Free-standing bath

St. Andrew's cross (what is that? An upright X-shaped frame to which a participant can be tied.)

Love swing (what is that? Exactly what it sounds like: a swing including restraints, which can be used by all genders.)

Large, sturdy bed with overhead beams

Kitchen area with coffee, tea, refrigerator (Packages available)

Toy cupboard (Packages available)
Photo Gallery of Room8 Hamburg - sex hotel, love adventure, or couples retreat?
A definite recommendation for Room8 Hamburg
I wish someone would have told me sooner how important it is to make your relationship your priority. Whether you have kids or not, our partners do not belong to us and we have to choose each other again and again to not lose intimacy. Finding a neutral space, untainted by daily quarrels, is the perfect way to re-connect and freshen up spicy feelings.
There is no shame in working at your relationship. People that criticise are most likely unhappy. 
If you want to relight that fire with your partner, then totally consider a few hours away (it doesn't always need to be an entire weekend).
Booking Room8 and what you're booking
There are diverse packages you can book (sounds like an all-inclusive holiday and damn right, it feels like one). From a quick(ie), two-hour lunch date to a six-hour all-in "let's explore, go fast, go slow…" special and a few packages in between.
Additionally, you can book your snack and drinks package and also a toys package (finally explore all the things you don't dare otherwise). This comes in sizes (ooh!) as to how many items you get to explore (and take home!). All courtesy of Fun Factory*.
---
*If you can't wait, and want to check out their fun, flirty toys for solo or partner play, use my discount code PLEASEPINCHMEHARD15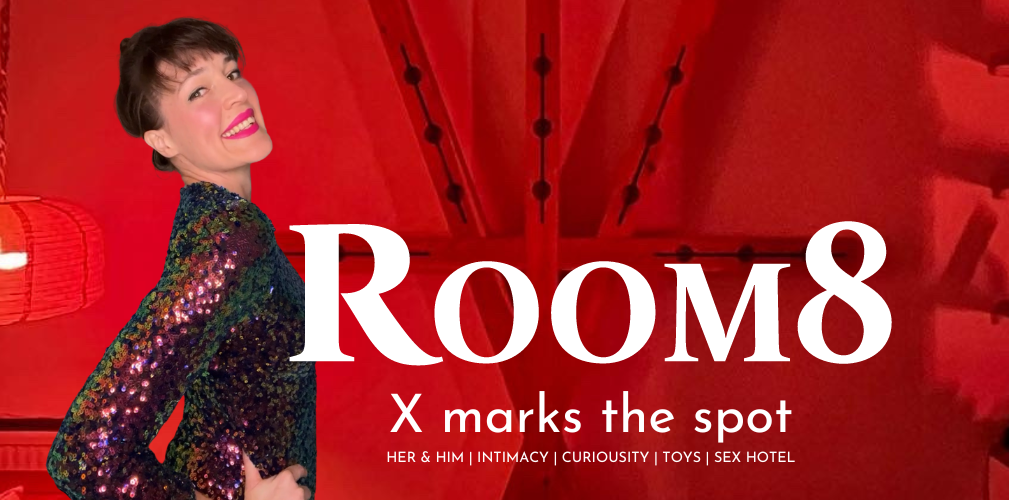 Short, erotic story: Room8 - X marks the spot
HIM & HER | INTIMACY | CURIOUSITY | TOYS
A short, erotic story about parents re-connecting in Room8 (a couples retreat in Hamburg for love adventurers)
Now, I hate to start a story on a low note but it's necessary, for context, you see. Do you know that stage in a relationship where you're no longer "I can't wait to get through the door cos we're gonna fuck each other's brains out"? But rather: "do we Netflix and chill or have sex cos it's been a while?"
Well, Tom and Charlotte had reached the latter phase. That's not to say a couple must remain in the honeymoon phase forever but, and here comes the second brutal truth: Relationships are not like fairy tales. We CAN stay in love forever, yes. But love is a verb and requires action. And I'm not a therapist, but I'm pretty sure that these two lovers could do with a bit of therapy to work stuff out and spice things up. But take a breath, because what happens next might be exactly what the therapist ordered.
Actually, before we continue, I've not been entirely honest with you. Because this story isn't about Tom and Charlotte. It is in fact about me. Me: A woman like many others. A woman surviving. A woman searching. A woman who has been spoon-fed lies about what life as a woman is meant to look like and has never been taught how to lead a healthy relationship. So, realistically, a woman winging it every day of her life.
This evening has been born out of a somewhat desperate attempt to revive my relationship, rediscover my lust, and reawaken my life outside of the routine and monotony.
So now that that is out of the way, let me paint the backdrop of this story for you. I feel a little overdressed in my sparkly number. I hadn't known what to expect when I booked. Searching my wardrobe for something to wear to a "sex hotel" wasn't something they wrote about in magazines. Oof. Sex hotel. That sounds so seedy. You know, let's take a moment here and just appreciate what I'm doing. I'm not going to a "sex hotel" the way you might think I am. 
Who am I to book this place? I am a mum. I am overwhelmed, tired, and mentally exhausted the majority of the time. I am touched out and struggling to find my purpose. And my husband? He's also knackered. Quality time for us? Without a village to help raise our kids? Almost impossible. It feels like a date night is achievable only when the stars align. 
And I mean, seriously, relationships are HARD! None of us have it all together. BUT (and here's the secret) it's up to us to MAKE OUR RELATIONSHIP a priority. We need to choose each other again and again.
And so, "making time for each other" has brought us here. So, no, we're not going to a sex hotel, we're cleverly making time for US. We're not perfect but we love each other and our curiosity for each other's lives means we need time (and space) to ask those open-ended questions. Questions that connect us and help us understand where our journey as individuals and a couple is going.
So can we, for the sake of me feeling a little uncomfortable at the word "sex hotel" call it a love sanctuary? A place for love adventurers? Where we can just escape the constant noise and kids and duty and to-do lists. Cheers.
Now back to my dress, which I bought especially for our trip to this love sanctuary (wink wink). He's watching me explore the space and I still feel overdressed. I position myself between his legs on the brown leather couch. It's unfathomable how just being away from our home and the anxiety of adulting has made me feel lighter (and the bubbles from the fridge probably played a part too!). 
"Open it", I order him. 
Slowly, he unzips my sparkly dress. Puh- is it hot in here? It's a little tricky, and we giggle as he struggles. Nothing like a laugh to lighten the atmosphere. Finally, it's open and I wiggle it over my hips to the floor. Oops. I'm wearing something daring underneath. A rubber top and panties with a double-ended zip! Looking down I realize my stockings are not matching. Ach, perfectionism is overrated. He sees it too and relaxes as I smile. That's the beauty of this stage of a relationship: the magic is not in the perfect outfit, it's in the curiosity of what will happen to it!
I must admit that I'm pretty set in my ways at my age. I do my best to be a good wife, mother, employee, friend. Puh- exhausting really. So I seldom venture outside of my comfort area for fear of the unknown. A routine has set in to keep me sane. And honestly, right now, right here, I'm feeling kind of awkward. No children to take care of, no jobs around the house to do… and he can sense this. As he runs his hand over my back, up to the nape of my neck I relax. This small, affectionate gesture shows me he understands and fills me with trust. 
We wordlessly absorb the energy and potential of the love swing and St. Andrew's Cross. I've never been around any of these things and I'm very intrigued. Maybe I'm not as stuck in my ways as I think. I'm like a child at Christmas. And we begin to feel closer than ever, the strains of the past months clearly not present in this space.
This space! It's breathtaking. Not a dungeon, like my single friends had joked. That's the thing: singles are married to themselves. They don't experience life through somebody else's eyes. Seeing my husband and me, this energy, his giddy lust; it moves me. What a privilege to share this path. From the plants to the bath to the cupboard filled with toys and the coffee machine (they had clearly thought of the parents), nothing screams dungeon in here in the traditional sense (except perhaps the screams that will later be muffled out to the neighbours!).
It is sophisticated, sexy, luxurious, and opulent and I feel myself growing impatient to get started. So much so, that I don't even flinch when he pushes me against the cross. 
Normally a cognitive desire type (I need my brain turned on), my arousal is currently through the roof. And I realise I'm ready. I'm ready to explore. How thrilling that my partner might discover something new about himself or about me!
Our bodies feel electric as we kiss, lovingly, hungrily, craving… the room is swollen already with sexual tension: can you feel it? I can. As he pins my arms up and kisses down the side of my neck I am overcome with new desires. I want to escape the ordinary… I think underneath it all I'm a lot kinkier than I thought.
And in this moment I watch my wild feminine side becoming unleashed, untamed, freed of all the pressures and expectations. Exaltation.
And this is the moment, where in my mind, everything slows down. So keep your breathing slow and steady, we don't want you falling off your chair now, do we?
The anticipation for this date has been building all week. We've been sending naughty texts, copping a good feel of each other, and sneaking kisses around the house. Small moments in the midst of the carnage! And, like an overflowing cup, we are high on each other.
The St. Andrews cross feels smooth, hard and cold on my back. Sensational. I'm willed to tell him to cuff me. Overcome with shyness, I whisper it in his ear (as if somebody could hear us). Reaching up, he fumbles a little but within minutes my arms are firmly secured. His kisses are growing wilder, his urge to touch every inch of my body.
"You look incredible. You smell incredible," he whispers back.
Not being able to touch him, being restrained; it feels like a relief. Freed of any to-do's.
"Kiss me," I rasp. His lips are warm, delicious, it feels like home. His hands wander further over my breasts, between my thighs, over my butt. Although we've done all this before, it feels new. It feels different.
As he pushes his body against mine, his finger traces my bottom lip. I stretch my tongue out and lick it. As his fingers glide into my mouth, my eyes close. I could do this all day. I am definitely NOT thinking about my to-do list.
Kissing down my entire body, he kneels before me. Man, I wish someone would take a photo right now. It feels like magic. Cartoon hearts around our heads. Looking up at me, he glides his hands up underneath my underwear. He's not taking them off. The zips are too intriguing to be ignored.
And then he gets up and takes a step back. I feel vulnerable suddenly. But his smile suggests he's got a plan. And because I know him, I know the plan, and I'm entirely on board.
We've booked a sex package with toys to try. We've explored before, but in this setting our inhibitions seem obliterated. Fetching the toys, he also retrieves some water. Sipping it, we capture each other's gaze.
I remember this feeling. Magic. I'll say it again and again. There's nothing wrong with our relationship. We just need more time like this.
My arms feel, let's say; interesting. I'm not used to the cross, it seems.
"I reckon my arms need a break."
We don't move far though. Right onto the love swing.
As he unzips my panties, his eyes wide in wonder, I am already in heaven. On his knees again, he kisses my inner thighs and begins licking my labia, the entirety of my vulva. Slow, sensual, his eyes deeply rooted in mine. I bite my tongue, try not to make a sound, mustn't wake the kids. And then suddenly I remember, the kids aren't here. And so I moan, I groan, I let out everything that has built up in me. His fingers enter me. First one, then two. We are entirely focused on each other.
"Take the vibrator," I instruct him.
The small, knobby, mint green vibrator looks "so cute" (as our daughter would say). But, oh my, it's not just cute. Covering it in lube, he runs it over my clit, down my labia and slowly, carefully, dips it into my vagina. I realise I might be in love; with the vibrator, that is! We play, we laugh, I grab his hair and pull him up to kiss me, my juices on his beard. I love this man.
As I awkwardly lift myself up, my face level with his torso, I run my hand over the bulge in his trousers… I believe this is what kids call "heavy petting" nowadays? It's carnal, primal, attempting to infiltrate each other's bodies. Greedy for each other's skin.
Now, breathe a minute. Normally, at home, this is the stage where we whip out a condom, too afraid a kid might wake up or puke or both. Then it's wham – bam – thank you, ma'am, Netflix, and chill. And somehow, that habit has become almost a visceral reflex in our bodies. Noticing our misplaced fervour (after all we're here for another five hours), we stop it dead in its tracks. Edging for the brave, I guess.
He lifts me gently out of the swing. It's like an adult fairground here. Without the queues. We stand for a moment, embracing, breathing, inhaling each other. Relaxing. Slowing down.
Do you know what we don't have at home? A bath. And so we decide to fill the magnificent, white, free-standing bath: soapy bubbles, no squeaky ducks, warm and sublime.
In the meantime: snacks. Yes. Pleasure for our mouths. After a few bites, I take his hand, and we both undress. Slowly, no haste. Our hands exploring each other's bodies, honeymoon feelings galore.
As we slip into the bath, overcome with lust, wildness breaks loose once more. Which, as you know, is tricky in a bath! The warm water encases our bodies. It sloshes over the sides, ignorant of our passion. Tom rubs my breasts, my clit as I jerk him off, taking our time. But again, we feel this urge build in us. It's time to melt into each other.
And so, with no regard for anything else, we wrap ourselves in towels and giggle all the way to the bed. Which is, by the way, gigantic. Back home, I normally sleep with the kids and my husband on his own to guarantee the best sleep. But here? Instantly we roll about on it. All limbs and moans. I push him down and kiss my way from his lips to his penis.
He is flaccid again. Licking, nibbling, sucking I turn him on. My hands make maps of his skin, his moans of appreciation are like music to my ears.
As he hardens, I take him deep into my throat. My hand squeezes his balls, my finger traces his perineum. It feels like the first time we did this.
Pining for a sex flow, I retrieve a condom now. I need to feel him inside me. We're like nervous teenagers pulling it over his penis. But then, as I straddle him and rock my hips back and forth, all nerves are calmed.
Can you imagine us, in the bed? It's like Christmas and birthdays rolled into one.
I ride him the best I can until my thighs tire. Turning me over he enters me in missionary. Whilst I can't wait to explore more with him in this space, I need connection right now. So, I pull his butt tighter to me. Closing my eyes I hold him as close as I possibly can, his beard stubbly on my neck. Like the famous painting by Gustav Klimt we unite not only our bodies but our souls. An intimacy unrivalled.
And the outcome? Irrelevant. Did we orgasm? Who cares. You can fill in the blanks.
Fact of the matter is, room8: it marks the spot. We've found the holy grail for all couples. The lift-off button.
And so, as we lay under the sheets, the room filled with the smell of sex, the endless possibilities of what we can do for the next few hours ringing in our ears, we both fulfill our deepest fantasy: we fall into a heavy, well-deserved sleep.
So, what are you waiting for. Book your "sexy time"!
DID WE TOUCH A NERVE? SHARE THIS WITH YOUR FRIENDS (OR ENEMIES!) AND COMMENT BELOW!