HER x many | DIRTY TALK | WITCH EROTICA
Imagine a room burning with the sensual energy of lots of women dressed in black: sounds a little like witches, right? Add some spicy erotica and you've got yourself a rhythmic poetry and prose mix of paranormal, urban fantasy.
Witch erotica is up and coming. This story was written for a live reading in Munich for Skirtclub (a worldwide members only private club for bisexual women), which had the motto Night Temptress. This short witch erotica story is written mainly in poem form to enhance the feeling of a spell being cast. May you be enchanted in the same way all the women at the event were.
Including a Q&A about witch erotica, erotic paranormal romance, erotica horror, and erotic urban fantasy at the end.
I dare you to cast a spell...
Tempt me
Taunt me
Tear me apart
I want you
You want me
You've enchanted my heart.
Lick me
Pinch me
Bite me, now.
Tell me what 
you want me to do
Lead me – show me how.
I want to please you
I want you relaxed
We'll still be here – snuggling
When the world has collapsed.
But until we slow down
Let's fuck this night up
Let's eye-gaze
Let's dance
Let me fill up your cup.
We've been gazing deep into each other's souls all night. Can you feel it? I can. It's intoxicating, I'm giddy with excitement and I need to relieve this pressure building inside me. There's not enough space in my body – it's threatening to burst out.
You leaned over the table tonight and my hand touched yours. Behind you, the blur of books on the shelf had me caught in a vortex. A tunnel. Did everyone notice? We were in that moment for a lifetime. Electric. Glue.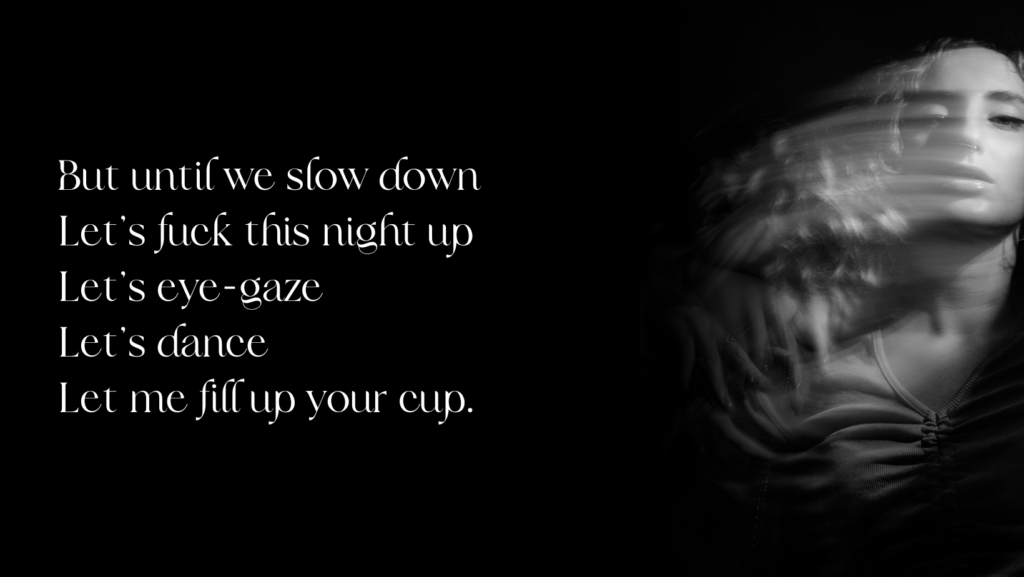 Did you feel my eyes on the small of your back, tracing the nape of your neck, the way your hands move, your feet seemed to float. I'm not making this up. Perhaps you're a witch? Maybe I'm a witch too. Temptresses of the night. Are all these women here witches? Casting their spell on others? 
A circle of us, learning, healing, searching, uncovering. What magic lies within us? Our eyes sparkle as we take in each other's energy. Every woman with her own unique powers, ready to give herself entirely at any moment, ready for persuasion, incantation, prepared to re-awaken others, our spells cast together, here, now, on this night where the moon is merely a silver-licked sliver in the sky.
Observe each other. We are all in black. The tension. Intention. The skin. Fire in our eyes. Shivers. Lips. Tongues. Charms. Secrets. Waves of incandescence. Ineffable: too great or incredible for words to fully convey.
Uh.
My breath.
My heart.
I can't take it.
You know what we have to do? We have to cast a spell. And I'm going to cast my spell on you. Because we all know: then you're mine.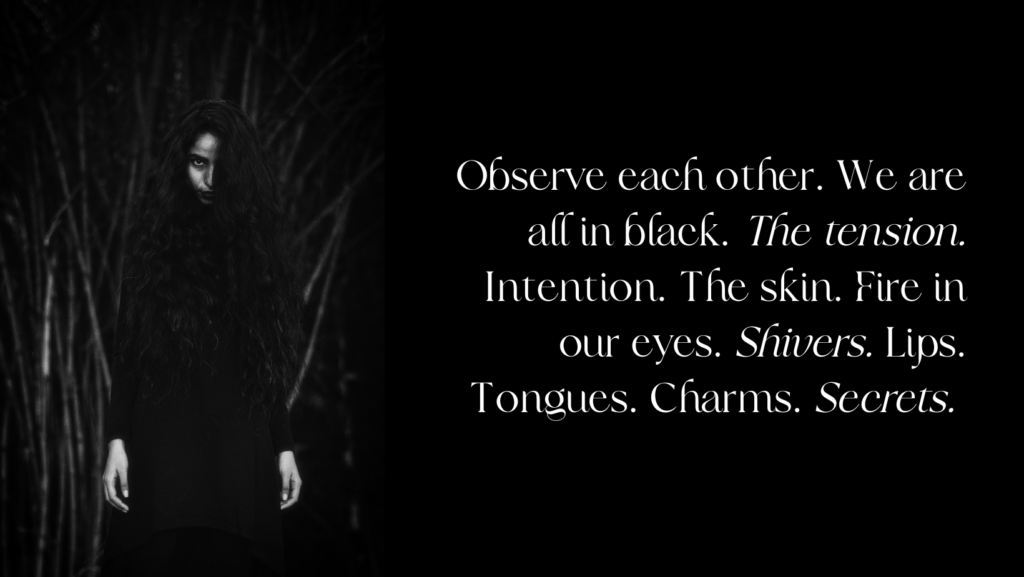 Watch me undress you with my eyes
Feel my fingers up your thighs
Moving closer
Cupping your breasts
Squeezing tenderly
I'm feeling possessed.
Raging passion
Your hands up my neck
They creep like spiders 
My mind's a wreck.
My hands enchanted
I hold your face
As you search my 
Skin, each dip you trace.
Lower and lower,
We move to the ground
My mouth near your sex
All other voices drowned.
You smell like cedar
You smell like home
You make it feel
Like I'm no longer alone.
You taste like toffee
You taste like now
It's entirely unfathomable
I know you somehow.
I suck you
I lick you
I linger a while
I pinch
Tweak and scratch you
And both of us smile.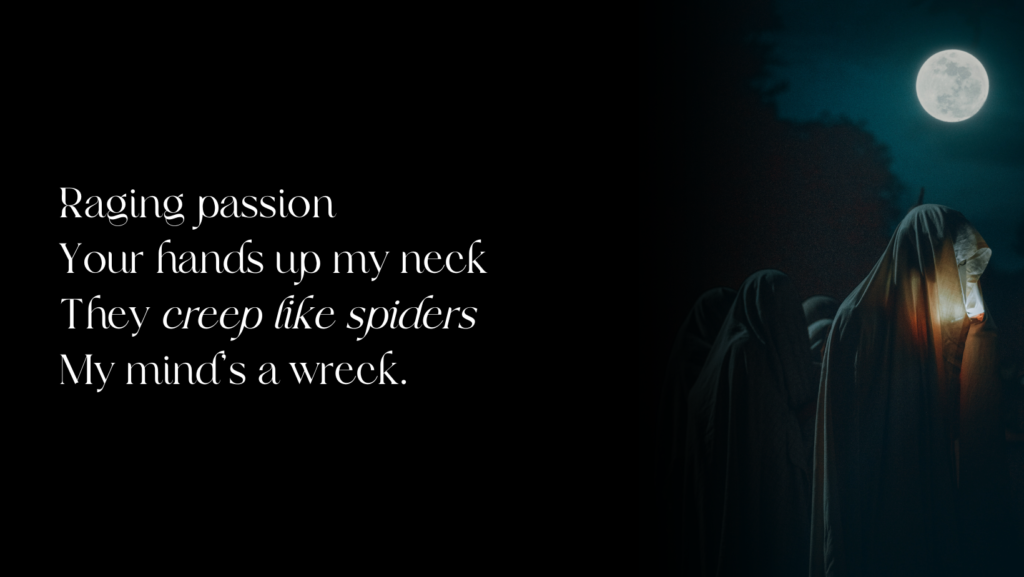 And this is the lambent moment. Everything flickers. Our hands entwined, I breathe hot against your inner thighs. Your breath, your moans, my elixir. A potion so potent, the room is melting. 
Fingertips on lips and skin
Tongues and silence
Words and sin.
Each breath a poem
A moment so true
In wisdom
In knowing
Just me and you.
Take me
Use me
I'll use you back
Give me your yes's
Tie my hands 
behind my back.
Fill the room with laughter
Breathe in the air of trust
Can you feel the magic
The energy? The lust?
The moonlight on your skin
Like earthshine – I grin.
As we grind, unite and melt
As we worship, the world spins.
Roll me over
Hear my howl
Look me deep in the eyes
I enjoy your prowl.
Let's fuck
Let's make love
Let's tune it all out
Chant our names
Exchange bodies
Writhe, moan and shout.
And then – when – the calm is reached
Forbid me to move
And just relish the unleashed.
Bind my hands, tie my tongue, permit my mind to spell-cast none.
Summon the witches
Show them their path
Imbue them with fancy
May they dance and laugh.
We call on you now,
Temptress of the night
May your skin catch fire
With your fellow witch's light.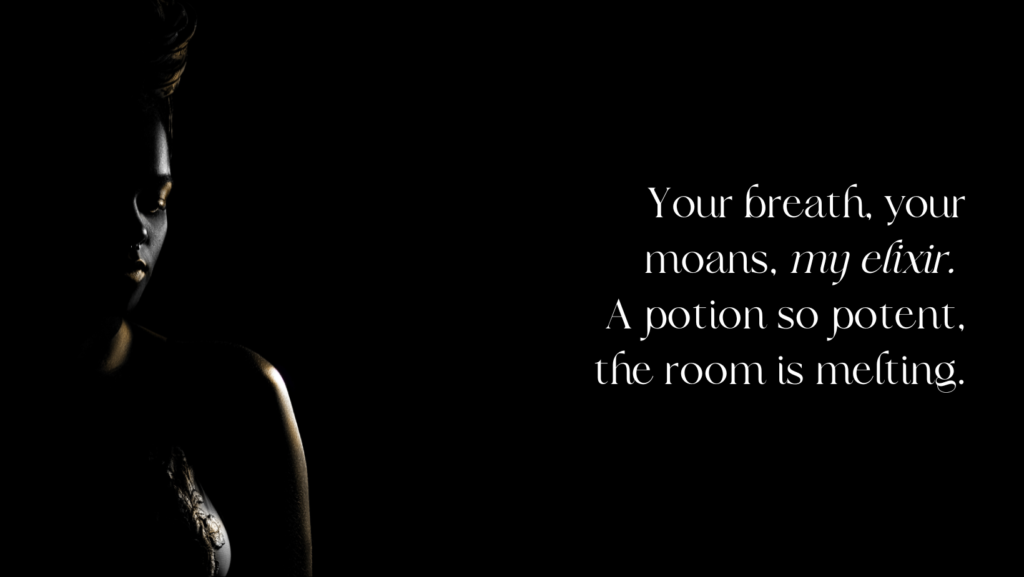 ---
What is witch erotica?
Seduction, sex rituals, enchantment, spells, the paranormal, a touch of horror perhaps… All these factors can play a role in witch erotica. Essentially, it allows the reader to transgress into a fantasy world, which generally bodes well with sexuality. Whether making love or being taken, witch erotica enables the characters to explore powers both sinful and playful that disobey the norm. The taboo aspect and ability to cast spells creates a naughty atmosphere.
Is witch erotica lesbian?
Paranormal erotica, urban fantasy and all other variations of witch erotica are not based on women getting frisky with each other. Ofcourse, it is fantastical to use ritual and sensuality in the context of queer, bisexual or other erotica based around vulva-owners but it is not exclusive. The genre allows characters to go beyond their physical capacities and with exaggerated strength, possess power over perhaps a stronger partner or several. Hence, mystical forces, mysterious happenings contribute to a sexual friction and energy that can be used regardless of gender and physicality.
What is paranormal erotic romance?
Much like witch erotica, it is the advanced version of events in which characters such as werewolves, vampires and so on get involved. Fan fiction is quick to follow this trend where protagonists from films are fantasized about. The forbidden, dark and mysterious is the focus and danger plays a significant role. Often trigger topics such as rape, BD&SM, impact play, choking, alpha domination, and rough sex, in general, are used to enhance the sensation it provides for the reader.
What is erotica horror?
Also known as dark erotica, this genre explores people's fears. Unlike paranormal erotic romance, it works with scaring the reader into excitement with titillation and sexual desires otherwise considered taboo. Particularly haunted themes, murder, incest, or psychological manipulation play alongside hard sex that pushes emotions and pleasure to a safe space that may, however, be less than sexually pleasing.
Ineffable | Adjective | English (and Spanish) via Latin | Indescribable. Something too great or incredible for words to fully convey.
FUN FACT: the moon was in fact a sliver in the sky on the evening this story was read to members of Skirtclub in Munich at an event with the motto Night Temptress.
DID WE TOUCH A NERVE? SHARE THIS WITH YOUR FRIENDS (OR ENEMIES!) AND COMMENT BELOW!