SELF-PLEASURE | HIM & HER | FANTASY
A free short story about self-pleasure that integrates the reader. Right there, up close and personal with a voluptuous blonde goddess, that knows what she wants.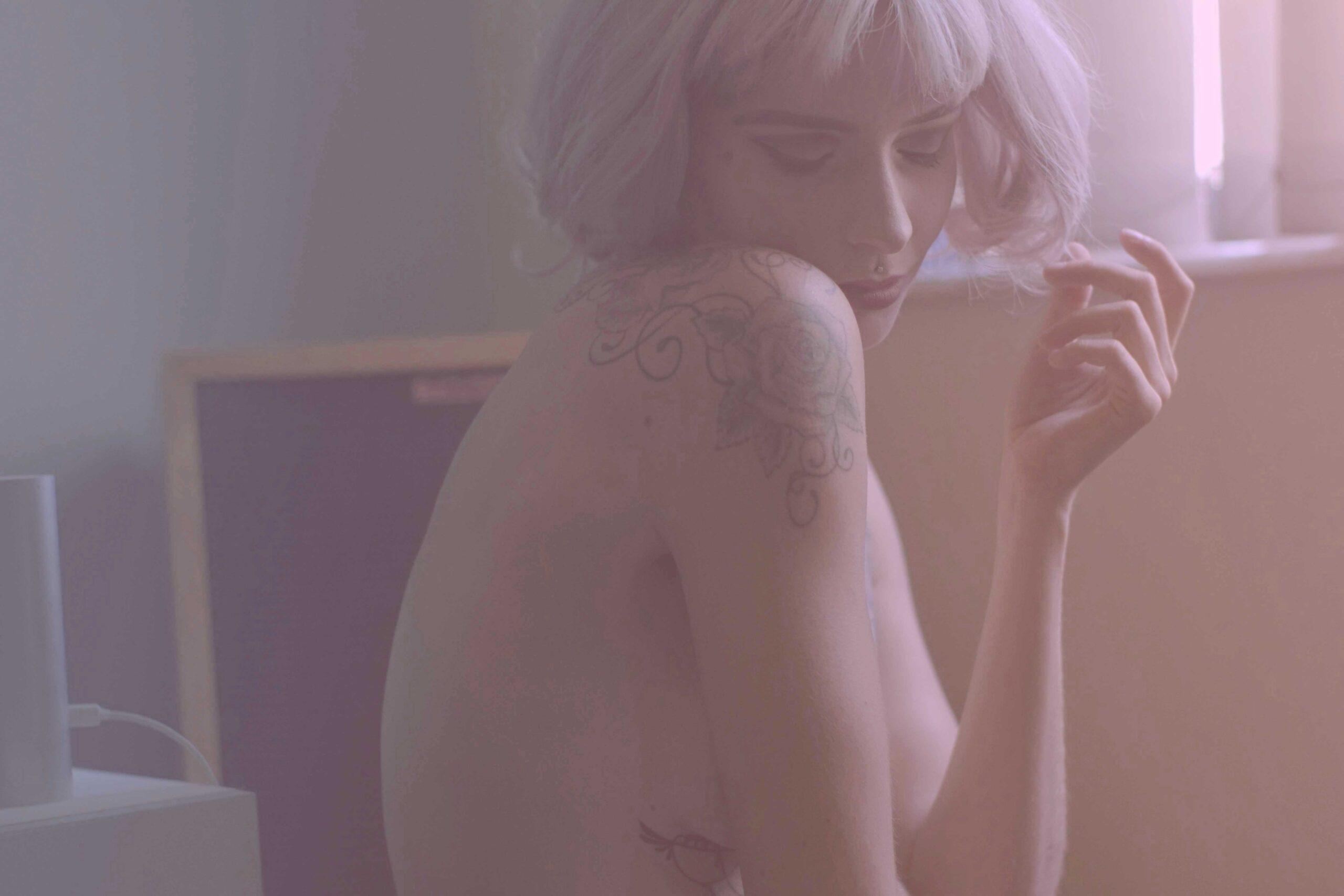 In my wildest self-pleasure fantasies, I am with you. Yes, that's right, you. I am lying in bed having just woken up, warm and dishevelled. And I am thinking of you. In my head, I have a different body. I am petite with a blond bob, big bosoms, and a sizable butt. 
I am naked. Are you?
My hands are exploring my body. Running through my hair, behind my ears, over my lips. I lick my fingers and let them trail down my voluptuous, heaving boobs, my soft pale stomach, over my freshly waxed vulva and inner thighs. Lifting my hips, I grab my butt hard, my fingers reaching into my crack.
Are you touching yourself? 
You are. You've traced all over your stomach, around your nipples and down to your meat. He's hard already thinking about my sweet smelling skin. Inhale me. Caress me with your mind. I am there.
My right hand slides over my tummy to my smooth vulva, and my fingers dip gingerly into my kitty. She is wet, thinking about your body close to mine, your breath on my neck. I slide my fingers into her juice and take them to my mouth. With more spit, I reach back down and start rubbing my clit. You're rubbing him too, right? Slowly, just the tip.
It feels unreal. I want more. You want more. 
You are kneeling beside me, my head by your cock, I take him into my mouth. Your hand reaches between my legs, and you too dip your fingers in. Doesn't it feel good? Like coming home after a long day. I massage your balls and stroke your perineum. You like that, don't you? You're rubbing my clit hard now, your second hand squeezing my breasts in turn. 
Do you want to cum? Like this? On my tits?
Spooning behind me, you enter me. Fast. We're both in the moment now. Can you feel it? Hoisting one leg up in the air you ram me, harder and harder. My boobs are bouncing, our breath is fast. I can feel yours in the nape of my neck. Can you hear me? My moaning is getting louder. 
We're both about to cum.
Rubbing my clit furiously, we both cum, a tsunami of orgasm. You're still deep inside me. Can you feel my vagina tighten? My orgasm rippling over your cock in waves? Your hot milk oozes out of my cunt, onto the sheets. 
I can feel your warm eyes staring at me. Do you want to kiss me? It was heavenly. Next time, I'll think of you again. Will you be thinking about me?
---
What turns you on? Which stimulus do you use to get yourself in the mood? Self-pleasure is a magical thing. You get to know your body and experience it in all its divinity. Have you read about the benefits of erotica? Check it out here.
DID WE TOUCH A NERVE? SHARE THIS WITH YOUR FRIENDS (OR ENEMIES!) AND COMMENT BELOW!