Ideas for
free
romantic gifts
This Christmas, let's slow down. Focus on mindfulness, intimacy, erotic energy and give romantic gifts that keep on giving way beyond the holiday season!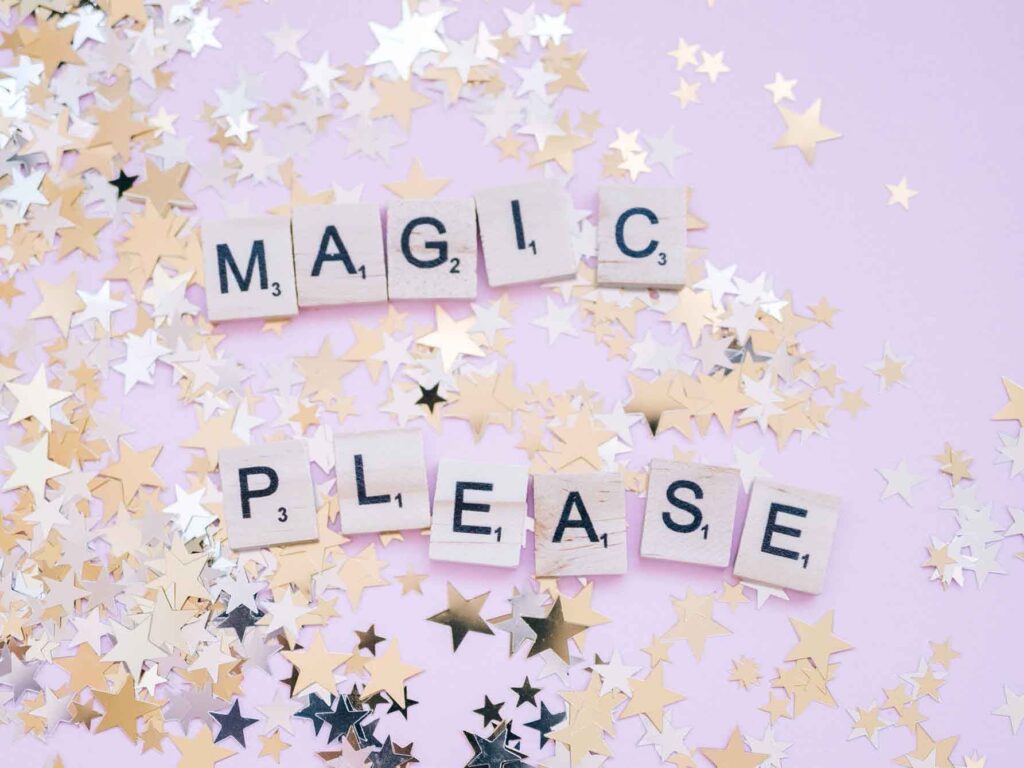 This year, all I want for Christmas is intimacy… 
It's that magical time of the year again…
Mistletoe, glittering lights, the smell of cinnamon and mulled wine and that buzz all around. Unfortunately, it's also a time of stress, frazzled nerves, disappointment and feeling completely overwhelmed.
The organisation, coordination, logistics, fitting everything under one hat. And then: the presents. Ugh, the lists, the wrapping…
As a mum, I am infamous for being the person who makes Christmas magic in our house. Whilst I love it, it's also pretty exhausting. 
On top of it, my partner is normally the last to get some of my Christmas cheer. And me? Well, whilst it's the best feeling in the world seeing those little faces light up, I am also craving sensory deprivation or an all inclusive holiday for a week. 
We get so wrapped up in the Christmas stress that we often forget to connect with one another. And especially with ourselves. Have you checked in on yourself today? I bet you're too busy wrapping presents, messaging friends and family about Christmas dinner and so on… And in the evening? I bet you collapse into bed, a tad burnt out by it all. 
But how about, this year, we take a different approach. Slow things down. Enjoy the magic and buzz ourselves. Isn't that what Christmas is about? Forget the perfect dinner… This year is only about your wellbeing, your mental health and all of us keeping our sanity. But if you fancy some kink and romance thrown in the mix, read on!
How to keep intimacy alive this Christmas
(and any other day)
Sure, the kids will be showered with gifts (although I guarantee they won't remember any of them when they're older, instead they will remember the magic of Christmas). But for myself and my partner, I am getting rid of the material aspect and focussing on love, intimacy and pleasure. And not just for Christmas.
These are long term plans.
Little gestures and habits that we will incorporate into our lives.
Here is your reminder in an extremely stressful time, to slow down.
Especially for you, here are not only free romantic gift ideas for your partner but also ideas to keep things hot and loving during the season and on top: how to stay connected to yourself when things get a little too much.
Let's get to the good (and sexy) stuff!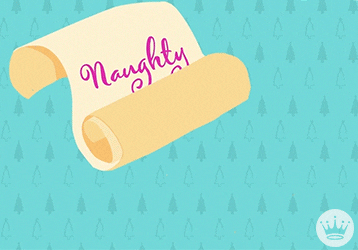 Couple gifts that keep on giving
First of all, here are some little gestures to spice up your Christmas and keep intimacy alive not just in this season but always! Christmas can really kill your sex life with all the stress and disputes. But there are festive ways to keep it light-hearted.
Love notes
Is your partner stressing about something? Pop a little note next to their coffee, or on their computer to tell them how you feel about them. 
Christmas Sex
Let's face it, it is cold for most of us during the winter. Sex is tricky as we are not neccessarily willing to remove our clothes. But (apart from cranking up the heating) there are ways to heat things up. 
Under the covers
Wearing the thickest socks you have (and yes, you can keep them on during sex), get frisky under the covers. And perhaps penetration is off the table? That way you can keep your heads out for fresh air.
Lube it up
Why not use some warming lube? Or something scented? A nice massage to warm you up and then you're ready to slip and slide!
Dress up
Have you not wanted to give a santa or sexy elf oral? This is your chance. Always one to have a laugh, I find role-play is the easiest way to be daring, bond with your partner and is guaranteed to warm you up. You don't need to buy anything fancy, a Santa hat and your birthday outfit will suffice!
Santa's lap
This is a great one for a quickie. The giver sits down (exposing as far as need be so great incase you are caught by Auntie Mable looking for the loo) and the taker rides them (also exposing as far as necessary). Added bonus: you stay warm cause your clothes are still on!
Snow Angel
Arms and legs spread wide like an innocent snow angel, it's the perfect position for oral. Are you too chilly? Cover it all up with a blanket. Feeling really sexy? Watch porn while they get to it!
Vibing underneath the mistletoe
Remote controlled toys. Ah yes, they are wonderful! Have you got friends and family over? That'll be fun. 
Do a chore
Take over a chore that your partner normally does. Without saying anything. These little things can mean the world.
Intimate walk
Going for a walk can be very intimate. Whilst of course I am going to suggest using a remote controlled vibrator and then having a romp the minute you get home all flustered and horny, it can also be nice to just enjoy the winter wonderland or frosty air together. Hold hands, stop to kiss, embrace each other. No talk of Christmas, perhaps no talk at all. Just a half hour or so to reconnect.
Random dance
Have you ever just grabbed your partner and had a boogie? Now is as good a time as ever. With the radio on, whisk them off their feet and have a quick dance. It releases happy hormones and I'm sure your partner will love the spontaneity of it. 
Sexy Whamaggeddon
It's all over Social Media; when you hear Wham's Christmas hit, you lose the game. That's not the vibe I'm going for though. When you hear a Christmas song, give your partner a kiss or send them a saucy message. Use the Christmas vibe to tell them you're thinking of them.
Bake/cook together
Unless you absolutely hate cooking or baking, getting a little dirty in the kitchen is not only intimate but also inspiring for all your senses. The smells, the outcome, the heat… Choose some simple cookies as a recipe and have fun. The kids love it, why shouldn't we?
Breakfast in bed
You know those Sundays where you stay in bed all day? Do it! Instead of the Christmas stress, stay indoors, snuggle in and eat, play, kiss, talk, tell each other stories… forget everything else around you and enjoy the day together. (Note: this is a tricky one for parents but let the kids in on it, let them cuddle and chill all day too!)
Bathe together
A relaxing bath… Wash each other, rub each other's backs, shave each other, read a book out loud. Sharing all these moments creates intimacy and erotic energy.
If your sex life is not what it normally is this season, don't fret. Once the relatives leave and the Christmas tree is out the window, you'll be back to the norm. Just talk to each other and be gentle with yourselves.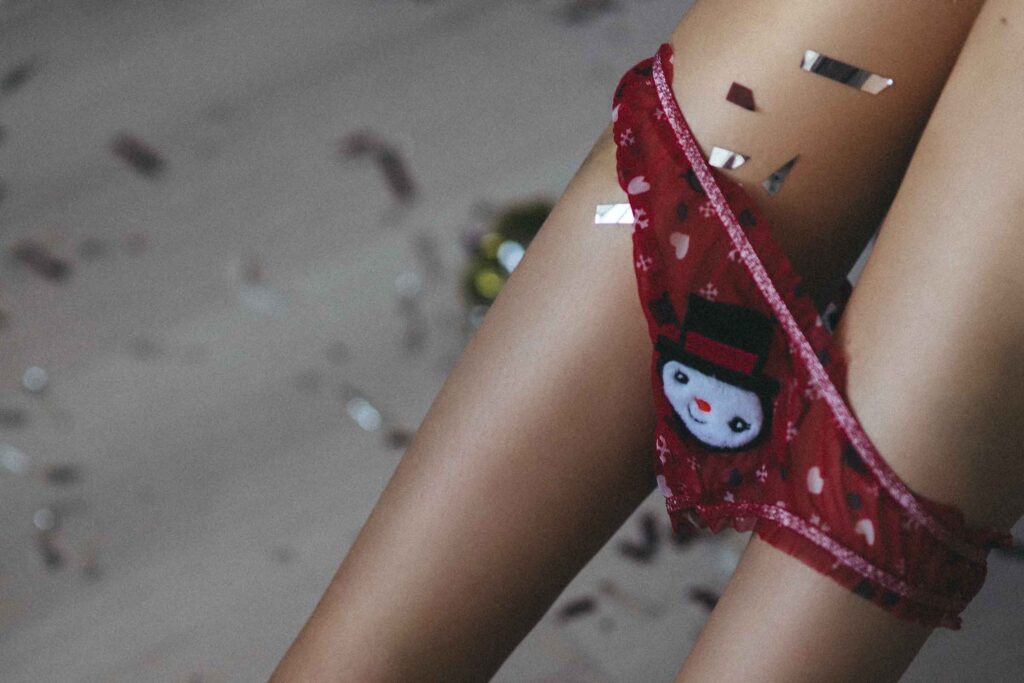 Free romantic gifts
Second of all, the romantic gifts that will cost you nothing or very little. Here goes:
Experiences
Make a promise to each other to try a new experience together once a month. This could be painting, a sport, learning a dance, cooking something new, going somewhere together… the possibilities are endless. 
A heartfelt letter
Write your significant other a letter with everything you never actually say but think they should know anyway. It might take a while to get the cogs in your brain going but jot things down on a day to day basis starting today. Something like: I love how you fiddle with your hair/beard when you're concentrating, it makes me proud when you talk about something you love… etc. 
Your own spotify list
Create a spotify (insert other music platform) list with songs that are special to you and your partner. If you're feeling super fancy, print it out with a little note as to what each song reminds you of or how it makes you feel. (PS this is the modern version of a mix tape/CD!)
Massage
We all love a good massage. Offer a book of vouchers (you can really just jot it down on a paper, no need to be too professional, it's the thought that counts!). And perhaps add "no strings attached" if you want to 😉
Your version of how you met
Write down your version of the events of how you met. I guarantee it's one that will move your partner to tears to see it written down and it's something you will treasure a lifetime! Add some photos of you both and voilá.
Make a wish: Fantasy fulfillment
Offer a safe space in which you can talk about your partner's fantasies and (if consensual) live it out! Our minds are the most effective sex organs and I promise you will be fulfilled in more ways than expected.
Write a short erotic story
This is an absolute favourite of mine. Write your own short (or long) erotic story featuring yourself and your partner. This time it's possibly your fantasy or write about a past sexual event you enjoyed very much with them. If you need some inspiration, you're on the right page here. Just head to the short stories!
Romantic video
Record a video of yourself or snippets of the both of you and tell your partner how much they mean to you. Or retell stories of adventures or moments you shared. You can even prepare a slideshow if your video skills aren't up to it. We all love to delve into our past memories and this is sure to create some nostalgia.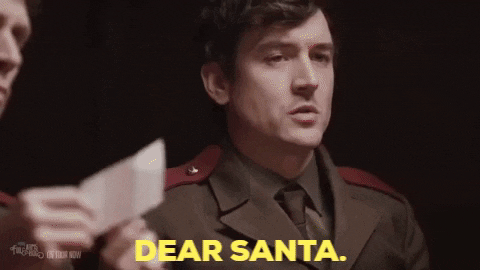 Romantic gifts for him or her that cost a little
Should you have a bit of money you want to invest, here are some other ideas:
Sex shop visit
A trip to a sex shop together with a voucher to purchase toys, clothes etc. is sure to be a top hit. If you can, call in the shop before and ask for a tour or consultation. Most are more than happy to oblige. Or just browse if you feel it might be too intimidating. Either way, it's a wonderful atmosphere to be inspired this Christmas!
Massage Candle
Coupled with the massage vouchers, a candle that turns to oil is a favourite of mine. It warms you, it smells heavenly and you get to rub it all over each other. 
Boudoir Book
Using a polaroid or your phone, ask a friend or set a timer and take photos of yoursel for your partner. Whether naked or in lingerie or however you feel comfortable and at your best. Stick them into a book or you can even have them printed professionally. Add a personal note and watch your loved one revel in a unique coffee table book!
Book club
Buy the same book twice, read it at the same time and arrange times to talk about it. It doesn't matter if you love or hate it, you will bond over it and this creates intimacy.
Flower fund
Who doesn't love fresh flowers in the home? Arrange a flower fund (this could be an envelope with money every month) so that your partner can purchase fresh flowers every month for a year.
Surprise picnic
We all love a surprise and a picnic. Together it's a wonderful way to spend some intimate moments together. Find a good spot (perhaps there's something near where you met or somewhere that means a lot to you both) and bring bits and pieces.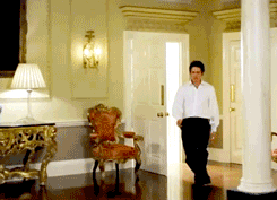 A hedonistic, spicy Christmas with you, yourself!
Christmas can be magical, but it can also be lonely. Depression and anxiety rates soar and being a parent can be a difficult time. Whether on your own or surrounded by people, you may feel alone this year. (Please seek help if you are feeling extremely vulnerable.) 
But here are a few glorious ways to let Christmas inspire you to love yourself.
Masturbation
Yup, it can be as easy as rubbing one out. If you want to go all Christmassy with it, it's as easy as lighting lots of scented candles, playing some jazzy seasonal music and perhaps taking a different approach to your otherwise routined pleasure. Have you tried rubbing yourself all over with oil? Edging? In the bath? A different mix of toys? This Christmas, shake things up and be good to yourself.
Schedule time for yourself
That's right, with everyone wanting a piece of you, try to schedule fifteen minutes or so a day where you focus solely on yourself. What you do in that time is up to you. But if I may make some sexy suggestions? Read some erotica, go for a short run to boost those happy hormones, watch some porn (no strings attached) or prepare something yummy that will hit that spot.
Sensual walk
Ooh, this will warm you up. I would like to suggest a leisurely walk (which I will repeat for a couple activity too) but with a twist. If you have a remote controlled toy, use it. If you don't, listen to some erotica (or do both!). Berlinable and Satisfyer have a list on spotify with one of my stories too. Being outside and being naughty will add infinitely to your lust and the Christmas lights and atmosphere will take on a whole new meaning for you!
Christmas party
With the pandemic still cramping our style in so many ways, if you do have the opportunity to go to a Christmas party, why not use it to flaunt your stuff. It's the perfect opportunity to feel great about yourself. Put your finest clothes on, perhaps some raunchy underwear and let your hair down for an hour or so. If you're going with a friend, dare each other to flirt a little. It'll release some tension and is sure to get some giggles!
Massage
If it's been a while since you were touched by someone then perhaps a massage could be good for you. I'm not talking about something naughty, but humans need touch. If you have the money for it, enjoy a body massage and allow yourself to rest. 
Raunchy brunch
If you've already planned a get-together with your besties, why not use the opportunity to talk about sexy things. If you think this might be a tricky topic, make little cue cards with themes such as masturbation, oral sex, positions… You'll soon get into it and perhaps you'll all learn something. It's a fantastic way to open up that erotic mindspace and let pleasure in!
So you see, there are many ways to stay connected this holiday season. Take a few moments each day just to slow down. Switch off your phone, practice a bit of mindfulness and be grateful for the things you have and the people in your life. It's just a holiday season, it will pass, and your life will return to some sort of normal!
Happy holidays!!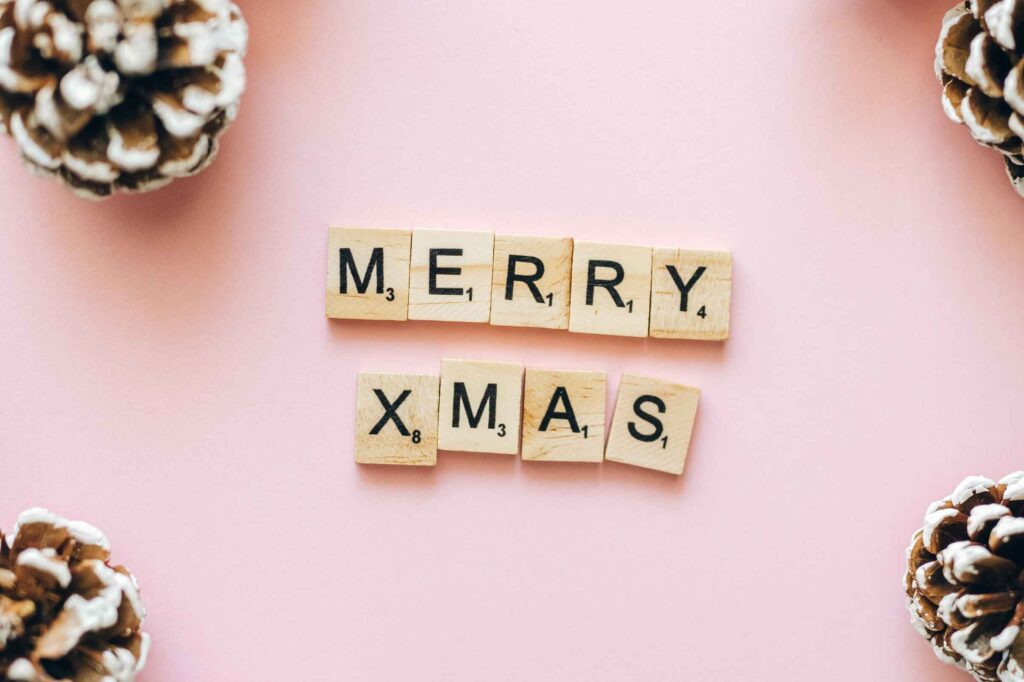 DID WE TOUCH A NERVE? SHARE THIS WITH YOUR FRIENDS (OR ENEMIES!) AND COMMENT BELOW!
Fancy some naughty content in between all those boring newsletters? Then sign up here:
"Rom-com porn for your imagination."
"Boner accomplished on more than one occasion."
"I really enjoy your unique way of balancing a deliciously filthy mind with class and human dignity."
"It was a pleasure to read; no pun intended."
"Sure, there are plenty of other authors out there writing erotic fiction. But Mrs. O? She is unique in every which way: her voice, her getting straight to the point. I love it."
"Arousing, invigorating and a healthy erotic mise en bouche with a posh accent."
© 2022 pleasepinchmehard. All rights reserved.